Novartis bribery claims: Greek MPs vote to Investigate TOP Politicians
MPs to look into accusations 10 senior officials accepted bribes from NOVARTIS Swiss pharmaceutical firm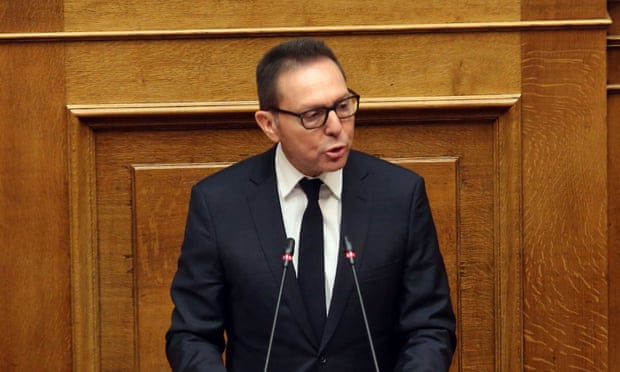 The Greek parliament is to investigate 10 of the country's top politicians over accusations they accepted bribes from the Swiss pharmaceutical firm Novartis in return for patronage that resulted in huge losses for Greece.
After a raucous 20-hour debate, MPs voted early on Thursday to form a parliamentary committee tasked solely with investigating two former prime ministers and eight other ministers in connection with the allegations.
The governor of the Bank of Greece, Yannis Stournaras; Europe's migration commissioner, Dimitris Avramopoulos and the country's former prime minister Antonis Samaras are among those accused of giving Novartis preferential market treatment.
The Greek people must learn who turned pain and illness into a means of enrichment
"We will not cover up," Samaras's successor, Alexis Tsipras, told parliament. "The Greek people must learn who turned pain and illness into a means of enrichment."
Officials in Tsipras' leftist-led administration have described the alleged bribery scandal as the worst since the creation of the modern Greek state almost 200 years ago. It has raised fears of political instability at a time when many had hoped the country was finally returning to normality after years of tumult.
All 10 of those implicated vehemently rebutted the charges in often angry and emotional speeches during the debate. Stournaras, a former finance minister who helped steer Greece through some of its darkest days of the debt crisis after the country's near-economic collapse, described the allegations as "disgusting fabrications". Panagiotis Pikrammenos, who headed a one-month caretaker administration at the height of the crisis in 2012, came close to tears as he described the allegations against him "as lies and unacceptable slander".
The cross-party committee, made up of 21 MPs, is expected to be established imminently. It will have the power to decide whether accusations of bribery, breach of duty and money-laundering apply, under a strict statute of limitation, to each of the accused. Under Greek law, parliament must investigate politicians for alleged infractions before they can face judicial prosecution.
More than 4,500 doctors are accused of malpractice as well
Few question that wrongdoing was committed. A confidential report by prosecutors originally tipped off by US authorities alleged that bribes of as much as €50m (£44m) were paid to politicians between 2006 to 2015 to promote Novartis's products. More than 4,500 doctors are accused of malpractice as well. The company is alleged to have offered not only bribes but also paid holidays and home appliances to physicians who endorsed its products. Almost all of the allegations stem from testimonies by anonymous witnesses, now under government protection, who were cited in the report.
With losses of around €4bn for the country's health system, the scandal will have played a significant role in Greece's financial meltdown.
Tsipras says the case is typical of the old and corrupt political establishment Greeks must now divorce themselves from, but legal irregularities and perceived bungling by a government seen as eager to capitalise on the affair politically have also fuelled charges of a witch hunt. Denouncing the claims as a "ridiculous conspiracy" deliberately orchestrated by Tsipras to offset his sliding popularity in the run-up to general elections next year, Samaras, who was succeeded by the Syriza party leader in 2015, has already announced legal proceedings.
"Few cases have divided our political life as much," the political analyst Pantelis Kapsis said. "Relations have been enormously soured. My biggest fear is political instability at a very sensitive time for Greece just months before its exits its bailout [programme] and prepares to return to markets again."
Facebook Comments